Asheville Bicycle Accident Attorney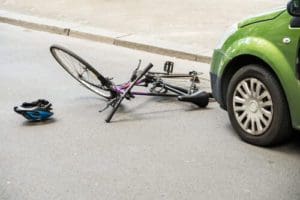 Asheville Bicycle Accident Lawyers
Western North Carolina's diverse landscape and nearly year-round riding climate make for great bicycling conditions. Unfortunately, not every bike ride ends well.
As drivers try to rush through traffic, they often don't pay attention to cyclists and crash into them. When this happens, bicyclists suffer some of the most serious injuries because they have so little protection. These injuries are often extremely painful and always costly to treat.
Bicycle accident victims do have legal options. They can file an insurance claim, a personal injury lawsuit, or both against an at-fault driver after a crash. These claims can provide compensation that can help pay for medical bills, lost wages, and other costs related to the accident.
The law often seems to work against injured cyclists, and the process of seeking compensation can be a long and arduous one. But you don't have to do it alone. You should always speak to an Asheville personal injury attorney after a bicycle accident.
Contact The Elmore and Smith Law Firm, PC now for a free consultation.
How Our Asheville Bicycle Accident Lawyers Can Help You
There are many aspects to a bicycle claim, and our attorneys can help you with all of them. We are prepared to review the facts of your case and provide an honest legal assessment of the options available to you.
If you decide to pursue a claim, we can launch an independent investigation of the accident and collect evidence to establish fault. We will create a legal strategy to help you win your case and put your rights and needs above all others. In a bicycle accident case, a lawyer is your advocate when it seems like no one else is.
Having legal representation by your side is most helpful when dealing with insurance companies. The at-fault driver's insurance company may try to shift the blame for the accident onto you.
Under North Carolina's contributory negligence laws, you are barred from receiving any compensation if you were even the slightest bit responsible for the accident. Our attorneys can work to show how you were not at all at fault for the crash.
Compensation for Bike Accident Victims
Filing a lawsuit against the at-fault driver can provide cyclist accident victims with compensation for all costs related to their accident. Compensation often sought in a personal injury case includes:
Medical expenses
Lost income
Loss of future earning capacity
Pain and suffering
Permanent disability
Loss of consortium
Emotional distress
Property damage
These are known as compensatory damages because they are intended to compensate the accident victim for their losses.
The courts may also award punitive damages when the at-fault driver has been grossly negligent or extremely careless. This type of compensation is meant to punish the defendant for their bad behavior and deter them and others from acting in the same manner.
In North Carolina, there are no caps on compensatory damages, but punitive damages are capped at $250,000 or three times the amount of compensatory damages.
What You Need To Know About Dealing With Insurance Companies
The at-fault driver's insurance company doesn't want you to have a good case because they don't want to pay out a big settlement. They're working against you, so you must know how to approach them and how to handle them when they approach you.
Accident victims are often amazed at how quickly the insurance company contacts them after an accident. They are not doing this to boost their customer service. They're doing it because they want to minimize their payout. They may try to get you to agree to a settlement early. They'll come with a very low offer, hoping you don't realize the full extent of your injuries and just how much they're going to cost to treat. The amount they offer is usually not enough to cover those costs.
The insurance adjuster will also use whatever you say to them against you later on. They will twist your words and take them out of context. They may ask you for a recorded statement to back up their claims. You are under no obligation to provide this and should, in fact, refuse.
If you have to speak to an insurance representative at all, it's best to say as little as possible. Don't guess about things. If you don't know, tell them you don't know. Make sure that whatever you say is truthful. If the insurance company finds out you were dishonest at any point, it could ruin your claim.
Dealing with the insurance company after a bicycle accident is not easy. With so many challenges, it's best to hire an attorney as soon as possible. Too often, bicycle accident victims don't realize they need an attorney until months after their accident. By then, they've already spoken to the insurance company, perhaps hurting their case, particularly if they provided a recorded statement.
Time Limits for Filing a Bicycle Accident Claim in North Carolina
North Carolina provides bicycle accident victims with a certain amount of time to file a lawsuit against an at-fault driver. This time limit is known as the statute of limitations. Most claims filed after the statute of limitations has expired are thrown out of court, barring the accident victim from receiving any compensation. There are narrow instances when this period may be extended.
In North Carolina, the statute of limitations is three years from the date of the accident. If the bicycle accident results in death, loved ones have two years from the date of death to file a wrongful death lawsuit. When the bicycle accident involves a minor, as many do, the statute of limitations is extended until three years after the minor's 18th birthday.
If the accident was caused by a poorly maintained road, for example, the accident victim could file a lawsuit against the city or county. Often, victims have only weeks to file these claims.
To give your claim the best chance of success, talk to an attorney as soon as possible.
What To Do If You've Been Hurt in a Bicycle Accident in Asheville, NC
When cars crash into bicycles, it's very scary. There's also a lot going on, and it's confusing. However, it's important to keep your wits about you and remember the proper steps to take. What you do in the moments following the crash could have a large impact on how much compensation you recover for your injuries and for any damage to your bike.
Call the police
First, stop and wait for the police to arrive. In North Carolina, any accident involving a vehicle that results in death, bodily injury, or property damage must be reported to the police. When they arrive, tell the officer about any injuries you sustained, even if you initially think they're only minor.
Gather needed information
While waiting for the police, speak to the driver to get their name, contact information, driver's license information, and insurance information. Don't discuss the accident with them. Don't try to negotiate with them or talk about how the accident occurred. Get the information you need, and wait for the police. Also, get the names and contact information of anyone who witnessed the accident.
Document the scene
It's important to document the scene and your injuries immediately following a crash. Take pictures of where the accident occurred, anything that indicates how it happened, road conditions, and weather conditions. Also take pictures of your injuries, your bike, any damaged equipment such as your helmet, and of the vehicle that struck you. An attorney can use this all as evidence when building your case.
Seek medical treatment
It's important to get medical treatment right away, even if you don't think you were that injured. Many injuries don't start showing symptoms for several days, and leaving them untreated could make them worse. This could not only affect your health but also negatively impact your bicycle accident claim. If your injuries require emergency attention, you may be transported from the scene before the police begin their investigation and report.
Contact a personal injury attorney
After getting the medical treatment you need, you should call an attorney as soon as possible. A lawyer will take over your case, perform all the necessary legwork, and speak to the insurance company on your behalf. Hiring an attorney as soon as possible can make the entire process much easier on you so you can focus on your recovery.
Common Injuries in Bicycle Accidents
When a vehicle strikes a bicyclist, the biker's entire body is exposed to the force of the vehicle. In many bike accidents, cyclists also fall off their bikes, hitting the ground and causing further injury.
Many different injuries are seen in bicycle accident cases. Some of the most common are:
Head injuries
Back injuries
Neck injuries
Facial injuries
Broken bones
Damage to internal organs
Eye injuries
Paralysis
Contusions
Abrasions
Lacerations
Strains
Fractures
Road rash
Common Causes of Bike Accidents
More often than not, a bicycle accident is caused by a negligent driver. Some of the most common causes of bike accidents are:
Dooring accidents
Drivers making unsafe lane changes
Cars following bikes too closely
Right crossing or left crossing, when a vehicle turns into the bike's path at an intersection or driveway
Speeding
Driving under the influence
Distracted driving
Bicyclists' Rights on the Road in Asheville
While some cyclists and drivers don't realize it, under North Carolina law, bicycles are considered vehicles. Cyclists have all the same rights and responsibilities as drivers when on the road. Bicyclists have the right to:
Ride on any state-maintained road except the Interstate Highway System
Travel in the middle lane of traffic if capable of traveling at the same speed as cars, or if the shoulder is in an unsafe state of disrepair
Make a left turn in the same lane as motor vehicles
As vehicles, bicyclists also enjoy the same rights as other drivers. Drivers must yield the right-of-way to bicyclists when appropriate and provide cyclists with the same amount of space. When they fail to do this, and the cyclist is injured, they can hold the driver liable.
Talk to Our Asheville Bike Accident Lawyers Now
Victims of bicycle accidents should not try to pursue compensation on their own. A bike accident attorney in Asheville can help those injured pursue the full amount of compensation they're entitled to.
If you've been hurt, call The Elmore and Smith Law Firm, PC. We will work to hold drivers responsible and negotiate with the insurance company on your behalf. We fight for the rights of accident victims and will be your advocate when no one else will.
Stop dealing with your injuries on your own. Contact us today to learn more about how we can help. The consultation is free and comes with no strings attached.