Asheville Pedestrian Accident Attorney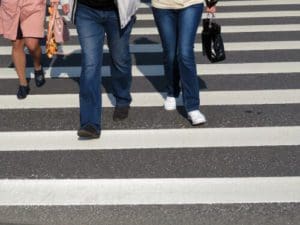 Western North Carolina and Asheville, in particular, is a beautiful place to walk around and take in the scenery. Unfortunately, not all walks end well.
Drivers are often impatient or they forget to watch out for pedestrians. When this happens, it is often catastrophic for the pedestrian. With no protection at all, pedestrians rarely escape these accidents unscathed. Their injuries are typically severe and pedestrians don't know what to do next, or how complicated their situation is about to become.
It's for this reason that anyone injured in a pedestrian accident should speak to an Asheville pedestrian accident lawyer as soon as possible. A lawyer can review your case and determine whether you may be eligible for compensation.
Contact The Elmore and Smith Law Firm, PC now for a free consultation to find out how we can help after a pedestrian accident in Asheville.
What to Do After a Pedestrian Accident in Asheville
Pedestrian accidents happen in an instant. It's natural for you to feel confused and frustrated in the moments immediately following the accident. However, it's important that you take the right steps as soon as you can. This can not only ensure that you get the help you need after an accident, but it can also protect any future accident claim you file.
It's important that you remember to stay calm after the accident. This is an extremely emotional time, but it's important that you keep your cool. Do not yell at the driver that hit you, blame them for the accident, or more importantly, accept blame for the crash. The driver's insurance company will use anything you say against you, so it's best to say as little as you can.
The first step is to move out of the path of vehicles if it is safe to move and you are able. The driver who hit you should move their vehicle out of traffic if it is safe to do so. Make sure the driver remains at the scene. If they leave, particularly if it's before you've obtained their name, contact information, and insurance information, you may find it very difficult to recover any compensation from them.
You and the driver should both remain at the scene of the accident until the emergency services arrive. Calling 911 is also one of the first steps you should take. North Carolina law requires that those involved in an accident report it if the accident results in death, bodily injury, or property damage.
Once the police arrive on the scene, make sure you give them a statement explaining what happened. Know that you can ask the officer to look at their notes and correct any inaccuracies you find there. This may be quite easy to do at the scene, but becomes much more difficult once the officer has filed the accident report.
Take lots of pictures of the scene of the accident, if you are able to do so. If not, ask a bystander or a witness to take these photos for you. Take photos of you and your injuries, the license plate of the car that hit you, traffic lights, intersections, crosswalks, and anything else that is relevant to the accident scene. You really can't take too many pictures at the scene of the accident.
Once the officer tells you it's okay to leave the accident scene, you should get medical treatment right away if you have not already received emergency treatment and transport to an ER. As a pedestrian that's been hit, your injuries are likely extremely serious. If treating your injuries is an emergency, the police may call for an ambulance, but you can also call for one if you need treatment right away.
Getting the necessary medical attention is important not only to ensure your injuries don't get worse, but also to help your claim. If you don't seek medical attention, the insurance company and at-fault driver will likely argue that you couldn't have been that hurt because you didn't even seek treatment.
As soon as you are able, you should call our Asheville pedestrian accident lawyers. Our attorneys can help you deal with any insurance companies you need to speak to, create a strong case to help you get compensation, and ensure your rights are upheld throughout the entire process.
Compensation for Pedestrian Accident Victims
In order to successfully claim compensation for injuries and other losses sustained during a pedestrian accident, you'll have to prove that the driver that hit you was negligent. Negligence occurs when a person doesn't act in a reasonable manner to keep others safe, and it forms the basis of most personal injury lawsuits.
After proving another person was negligent and that resulted in the accident that caused your injuries, you'll then need to prove that you suffered losses as a result. In a personal injury lawsuit, these losses are known as damages and they are meant to compensate you for anything you lost as a result of the accident.
The types of compensation available in a pedestrian accident claim may include:
Medical expenses
Lost wages
Loss of future earning capacity
Emotional distress
Pain and suffering
Permanent disability or disfigurement
Other expenses, including home renovations necessary to accommodate the injuries
North Carolina courts also award punitive damages in certain rare cases. These damages are awarded only when the at-fault driver acted with gross negligence. Punitive damages are not meant to compensate accident victims for losses. They are intended to punish the defendant for their extreme recklessness and to discourage them and others from acting in the same manner in the future.
Understanding Your Own Insurance Coverage
North Carolina is a tort auto insurance state or a fault state. That means that if a negligent driver hits you while you're out walking, you will need to go through their insurance company to claim compensation for the accident.
It's important to understand that when seeking compensation from insurance, you are only entitled to the maximum limits on the driver's insurance policy. Considering that most drivers purchase only the minimum requirements under North Carolina law, this often isn't enough to cover the cost of your injuries and other losses.
Another problem that sometimes arises from going through the driver's insurance company is when you are hit by an uninsured motorist. It's true that the law in the state requires all drivers to carry a certain amount of insurance, but not everyone obeys the law. Some drivers would rather take the chance that they won't get into an accident rather than pay the monthly premiums.
Tragically, some at-fault drivers choose not to stop after hitting a pedestrian. Hit-and-run accidents involving pedestrians are startlingly common.
In any of these cases, you may be able to seek compensation from your own auto insurance coverage. Pedestrians who have auto insurance may be covered even when they are not in their vehicle. This coverage may also extend to the policyholder's children and other household members who are hurt as pedestrians.
North Carolina law requires most drivers to carry a certain amount uninsured motorist (UM) or underinsured motorist (UIM) protection. The minimum limit outlined by state law says drivers must carry at least $30,000 in UM or UIM insurance. In the case of an accident, you can seek compensation under your own insurance policy when you have this type of coverage in place.
Time Limits for Filing a Pedestrian Accident Claim
While injuries from a pedestrian accident can linger for years after, victims have only a certain amount of time to file a claim for compensation. This is known as the statute of limitations. In North Carolina, it is three years from the date of the accident.
Too many accident victims hear this and think that they have three years before they must speak to an attorney or begin the process of filing their claim. This is dangerous, though. Attorneys need time to collect evidence, investigate the accident, and establish fault. This can take a great deal of time.
While an accident victim waits to file their claim, important evidence in the case is likely to go missing. Witnesses may disappear or forget what they saw and evidence may evaporate.
Pedestrian accident victims should always speak to a lawyer as soon as possible to ensure that they have the best chance of securing compensation for their losses.
How Our Asheville Pedestrian Accident Lawyers Can Help
After being in a pedestrian accident, you'll face lots of legal issues. These are extremely challenging to face on your own, and this is where a pedestrian accident lawyer in Asheville can help.
An attorney may start the case by investigating the scene of the accident. This can help them identify all responsible parties. While investigating the case, an attorney can collect all the necessary evidence that can help back up your claim for compensation. An attorney will also have the resources available to them to call in expert witnesses such as medical experts and economists that can also help substantiate the claims in your personal injury case.
Once an attorney has established fault, they will then fight to hold responsible parties liable. This could include the at-fault driver, the insurance company, or anyone else who contributed to the accident.
They will negotiate with those responsible for the accident in order to pursue the full amount of compensation you deserve. If negotiations are unsuccessful and the at-fault parties continue to offer unreasonably low settlements, an attorney can take the case to court and represent you throughout the entire trial.
Common Injuries in Pedestrian Accidents
Pedestrians are most likely to sustain injuries to their abdomen, chest, extremities, and the head. The severity of these injuries will depend on the driver's speed, the type of vehicle they were driving, as well as the pedestrian's age and health.
Some of the most common injuries seen in pedestrian accident cases include:
Head injuries such as concussions and skull fractures
Internal injuries such as internal bleeding, rib fractures, and brain bleeds
Pelvic injuries
Spinal cord injuries including herniated discs and paralysis
Multiple bone fractures
Deep lacerations
Wrongful death
The injuries sustained during a pedestrian accident are some of the most severe. In many cases, they are fatal. In fact, when a pedestrian is hit by a car traveling at a speed over just 15 mph, the injuries are likely to be catastrophic.
Common Causes of Pedestrian Accidents
Most pedestrian accidents are caused by negligent drivers. Drivers often watch out for other vehicles, yet they fail to watch for pedestrians. Among the negligent actions drivers take, or fail to take, that result in pedestrian accidents, there are a few common causes of these types of accidents. They include:
Distracted driving
Speeding
Failure to yield right-of-way to pedestrians
Failure to follow traffic signs or signals
Failing to drive properly according to weather or traffic conditions
Driving under the influence of drugs or alcohol
When a driver acts negligently and that negligence results in an accident that causes someone else to sustain injuries, injured pedestrians can file a personal injury lawsuit against the liable party.
Talk to Our Asheville Pedestrian Accident Lawyers Now
If you've been injured in a pedestrian accident, don't try to take on your claim all alone. A pedestrian accident attorney in Asheville can deal with the legal matters and work to uphold your rights throughout the entire process.
At The Elmore and Smith Law Firm, PC, we are passionate about helping accident victims seek what they are owed. We know how serious the injuries are in a pedestrian accident, and we know how costly they are to treat.
We also know how difficult it is to file these claims when you're trying to recover from serious injuries. Let us do the legwork for you. We can investigate your accident, collect necessary evidence, and build a strong case that will help you pursue the full amount of compensation you need.
Don't deal with the aftermath of your accident on your own any longer. Contact us today and learn how we can help during a free consultation.