Asheville Multi Vehicle Accident Lawyer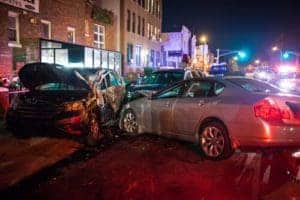 Multi-vehicle car crashes, that is, collisions between two cars or several vehicles, account for about half of all motor vehicle accidents. Most such car accidents are caused by driver error. A multi-car crash, including so-called "pileups" of several vehicles, maybe solely one driver's fault, or both (or more) drivers may have contributed to the accident.
When a driver who has acted with negligence or recklessness causes an accident that results in injury or death, those who have been injured, or their survivors, have a right to hold the negligent driver accountable.
In Western North Carolina, the car accident lawyer at The Elmore and Smith Law Firm, PC works with those who have been injured in multi-vehicle car accidents to determine liability and obtain compensation for those who have been unjustly harmed. If you have been significantly injured in a multi-vehicle crash, contact us today for a free legal consultation.
Causes Of Multi-Vehicle Car Accidents
In a recent annual survey, the National Highway Traffic Safety Administration (NHTSA) reported 13,282 fatalities in multi-vehicle passenger car accidents – nearly 40 percent of all motor vehicle accidents during the year.
NHTSA reported fatalities in:
Side-impact collisions.
Head-on collisions.
Rear-end collisions.
Sideswipe accidents.
The same report cited 14,587 fatalities in single-vehicle crashes, identified as rollover and non-rollover accidents.
In its most recently published Traffic Crash Facts, the North Carolina Department of Transportation (NCDOT) was able to identify contributing circumstances in more than 255,400 accidents. They include:
Inattention / distracted driving.
Disregarding traffic signals (stop signs, yield signs, red lights, etc.).
Speeding / too fast for conditions/failure to reduce speed.
Failure to yield.
Improper passing
Followed too closely.
Crossed centerline / going the wrong way.
Alcohol use (drunk driving).
Drug use.
For more than 11,000 accidents, the NCDOT reports that a driver "operated a vehicle in an erratic, reckless, careless, negligent or aggressive manner."
Following too closely, to illustrate how one type of recklessness causes accidents, is a typical charge after a rear-end collision, in which one car hits a vehicle that has slowed or stopped. Pileups, which are often caused in part by poor visibility during inclement weather or common mountain fog, usually include multiple rear-end collisions caused by drivers following too closely or too fast for conditions.
We Investigate Multi-Vehicle Car Crashes
In some cases, it is not immediately apparent why a multi-vehicle accident happened. In a pileup, there may be several cars and multiple collisions. More than one car or driver may have contributed to an individual's injuries or death.
Determining who is liable in a multi-vehicle crash sometimes requires reconstructing the accident through technical forensic work. Once questions of how and why are answered in a multi-vehicle crash, questions of liability must be addressed. Sometimes, more than one driver may be held responsible for an accident.
If you have been injured in a multi-vehicle crash in Western North Carolina, there are multiple reasons to seek the assistance of an experienced car accident attorney. An attorney from The Elmore and Smith Law Firm, PC in Asheville can conduct an independent investigation of the accident, including obtaining accident reconstruction work by consulting experts.
In addition to determining who should be held liable in a multi-vehicle crash, an attorney working for you can protect your rights, including making sure you are not falsely blamed for the crash. We can also help mitigate any fault you may have in a multi-vehicle accident.
Contact Our Western North Carolina Car Accident Attorney
If you have been seriously injured or lost a loved one in a multi-vehicle car accident in Western North Carolina, contact The Elmore and Smith Law Firm, PC today. Our experienced car accident lawyer can investigate if you were involved in a multi-vehicle accident and protect your right to be compensated for your losses.
The Elmore and Smith Law Firm, PC attorney can initiate your case by meeting with you at no charge to discuss your accident and the legal options available to you. Contact us today by phone or fill out our online contact form for help.
Sources: