Asheville Rear-End Collision Attorney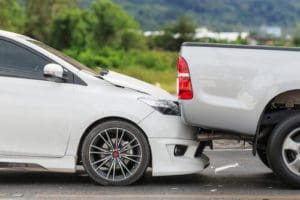 Rear-end collisions are among the most frequent types of car accidents. Rear-end accidents are also closely connected to the neck injury known as "whiplash."
In most cases, the driver of the trailing vehicle in a rear-end accident is found to be at fault for not stopping in time to avoid the collision.
In North Carolina, these drivers may be charged with "failure to reduce speed" or "following too closely," among other charges as may be appropriate.
If you have been injured in a rear-end collision that was not your fault, the Western North Carolina car accident attorney at The Elmore and Smith Law Firm, PC can help you obtain compensation for your medical expenses and other losses. From our office in Asheville, we accept rear-end collision injury and wrongful death cases from throughout Western North Carolina.
Contact us today for a free consultation about your car accident injuries and your legal options. Call 828-367-7998 or fill out our online contact form.
Rear-End Accidents In North Carolina
The National Highway Traffic Safety Administration (NHTSA) says rear-end collisions account for 29 percent of all traffic accidents, making them the most common kind of car crash.
In North Carolina's 2011 Traffic Crash Facts, the state Division of Motor Vehicles (DMV) reports the incidence of two types to rear-end accident charges:
Failure to reduce speed – 52,466 accidents.
Followed too closely – 5,044 accidents.
Distracted driving also causes many rear-end collisions. A University of North Carolina at Chapel Hill study found that drivers talking on cell phones are nearly twice as likely as other drivers to cause a rear-end collision. Drivers involved in collisions while talking on cell phones were most commonly charged with following too closely, failing to reduce speed, failing to yield, and traffic signal violations such as running a red light or speeding, according to the study.
The DMV's Crash Facts publication lists "inattention" as the contributing circumstance in more than 47,300 accidents in North Carolina in 2011 and "driver distracted" in 1,989 more.
Of course, other types of reckless and careless driving can lead to a "failure to reduce speed" in time to avoid a rear-end collision – drunk driving, drugged driving, drowsy driving, aggressive driving and other types of negligence.
Whiplash In A Rear-End Collision
Whiplash is caused by a sudden severe jerking motion that pushes the body forward­ – such as the impact of a rear-end collision – that causes the head and neck to stretch backward and then snap back into place in a whip-like motion. Whiplash can occur if a car driver's or passenger's head and neck are not supported by the seat or headrest when the collision occurs.
Whiplash can injure muscles, tendons, ligaments, discs, and nerves in the neck and can leave a victim with lasting pain.
In some cases, a whiplash victim can rest and use over-the-counter pain medication, and the pain will subside over several weeks. But severe whiplash injuries can last for months or years and, for some, the pain never goes away. Chronic pain from a whiplash injury can lead to complications, including mobility problems and psychological issues.
Potential symptoms of a whiplash injury include:
Neck pain.
Neck stiffness.
Shoulder pain.
Arm and hand pain.
Lower-back pain.
Headache.
Dizziness.
Numbness in the arm and hand.
Ringing in the ears.
Blurred vision.
Concentration or memory problems.
Sleep disturbance and fatigue.
Irritability.
The Insurance Institute for Highway Safety (IIHS), a nonprofit organization that researches automotive safety, says whiplash and other neck injuries are more likely among:
Taller vehicle occupants, whose necks and heads are not supported by the car's seat or headrest.
Drivers, who are more likely than passengers to be leaning forward and away from the seat's protection to observe traffic when a collision occurs.
Women, who are also more likely than men to develop long-term whiplash symptoms. One possible explanation is that males have more neck musculature than females for about the same size head, the IIHS says.
Contact Western North Carolina Car Accident Attorney Today
If you or a loved one has suffered whiplash or another injury in a rear-end collision, you may be eligible for compensation from the at-fault driver. North Carolina car accident victims can seek compensation for medical bills, vehicle repair or replacement, lost wages, pain, and suffering, and other losses.
The Elmore and Smith Law Firm, PC car accident lawyer can advise you of your legal options after a serious rear-end collision in Western North Carolina. Contact us at 828-367-7998 or fill out our online contact form to talk with a dedicated North Carolina car accident attorney at no charge and with no further obligation whatsoever.
Sources:
UNC Highway Safety Research Center – Study shows drivers using cell phones twice as likely to cause rear-end collisions
NCDOT – North Carolina 2011 Traffic Crash Facts
IIHS – Q&A: Neck injury
Mayo Clinic – Whiplash