Basilica of St. Lawrence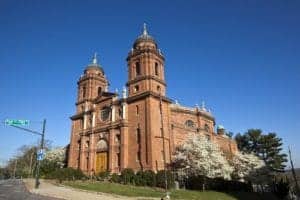 The Basilica of St. Lawrence is one of downtown Asheville's architectural and spiritual landmarks. Designed by renowned Spanish architect Rafael Guastavino, it is the only basilica in western North Carolina and reportedly has the largest freestanding elliptical dome in North America.
Guastavino came to Asheville to work on the construction of the Biltmore Estate in 1890. In 1905, he partnered with the local Catholic community and architect R.S. Smith to build St. Lawrence Catholic Church. Both the church and its former homesite are on the National Register of Historic Places.
Located in Asheville's downtown historic district, the basilica was designed using a tile and mortar system that was popular in Guastavino's native region of Catalonia in Spain. The method of uses multiple layers of thin ceramic tile and mortar to create arched structures, such as vaults or domes. Every horizontal surface in St. Lawrence Catholic Church is built using the Guastavino method.
Adding to the splendor of the basilica are its stained-glass windows, brought to Asheville from Munich, Germany. Statues of saints including St. Lawrence, St. Cecelia, St. Rose of Lima, St. Patrick and St. Peter the Apostle were made in Italy. The altar and fresco of the Last Supper are made from Tennessee marble, and Spanish wood carvings of the Virgin Mary and St. John the Beloved show how the basilica's design was truly an international, collaborative effort.
The basilica is named for its patron saint, Lawrence, a deacon who served Rome under Pope Sixtus II.  Though the historical record is unclear, tradition says that Lawrence was caretaker of the funds of the Church and responsible for distributing alms to the poor. After Pope Sixtus was executed under the reign of the Emperor Valerian, Lawrence worked quickly to deliver as much of the Church's money and property to the indigent. He was later executed as well.
Today, the Basilica of St. Lawrence is one of just 85 basilicas in the United States. It provides traditional church services to Asheville residents and visitors. It also offers guided and self-guided tours at specific times, and houses a library with more than 1,500 titles.
Driving Directions to Our Office
The Basilica of St. Lawrence is less than a mile from Elmore and Smith Law Firm. We're located at 79 Woodfin Place, Suite 103, in Asheville.
To get to our offices from the basilica, head west on Haywood Street. Turn right to merge onto I-240 East. Take exit 5B for Charlotte Street. Go straight through the intersection to get onto Woodfin Place. Our offices will be in 500 feet on the right, just before the underpass.