YMI Cultural Center — Asheville, NC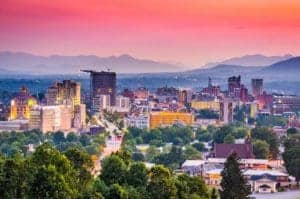 Located in downtown Asheville, the YMI Cultural Center is a historic treasure that celebrates African American history in western North Carolina. It showcases African art and artifacts that document the contributions of the black community in and around Buncombe County dating back to the 1800s. It also offers cultural arts programming through dance, theatre, and musical performances throughout the year and supports the city in community development efforts.
Originally called the Young Men's Institute, the building was commissioned by George Vanderbilt in 1892 for the black men who helped construct the Biltmore Estate. In 1906, a group of 48 African American men bought the 18,000 square foot building from Vanderbilt for $10,010 and established YMI, Inc. The corporation became a hub of cultural activity for Asheville's black citizens.
At points throughout its history, the 18,000-foot YMI building housed a kindergarten, gymnasium, public library, corner drugstore, funeral parlor, doctor's office, and served as a place of worship for congregations that did not have churches. It also provided lodging to black visitors who were turned away from segregated hotels and motels in the area.
As desegregation granted African Americans access to new shops and facilities in Asheville, the YMI was used less and the building began to deteriorate. It was slated for demolition until Dr. John White and a collection of local church leaders launched a campaign to raise $8 million for the restoration of the building. Today, the Tudor structure is listed on the National Register of Historic Places.
Over the years, the YMI Cultural Center has become an integral part of Asheville's efforts to highlight diversity and inclusion. It provides programming supporting the area school system, offers guided tours of the historic downtown and assisted with the city's revitalization efforts, including the restoration of the South Asheville Colored Cemetery.
It is also a partner organization with Pack Place, a collection of five cultural institutions throughout Asheville committed to the preservation and appreciation of local arts, culture, and history. Along with YMI Cultural Center, the Pack Place partnership includes the Asheville Art Museum, Colburn Gem and Mineral Museum, Diana Wortham Theatre and The Health Adventure.
Getting to Elmore and Smith Law Firm
The YMI Cultural Center is located at 39 South Market Street, just three minutes away from the Elmore and Smith Law Firm.
From the center, head west toward Town Mountain Road. Turn left on Town Mountain Road and continue for 0.2 miles. Turn left on to College Street. At the traffic circle, continue straight to stay on College Street. Turn right onto South Market Street. The YMI Cultural Center will be on the right, just past Eagle Street. You can also contact us for a free case evaluation.